Routine Maintenance and Sustainable Tankless Water Heaters

---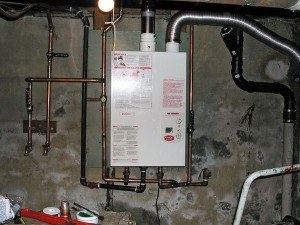 Tankless water heaters are becoming more and more popular as a growing number of homeowners are aware of their benefits. These water heaters heat water only when it is needed and might save the average homeowner a pretty good chunk of their utility bills when compared to other water heaters. In order to realize these savings, however, homeowners should understand how to keep their heaters running efficiently. At Brown & Sons Plumbing, we are happy to provide you with the services and information to keep your hot water flowing efficiently.
Lime Scale Buildup
As with other types of water heaters, the buildup of lime scale can lead to less efficiency, a strain on the system, and a shorter lifespan for the heater. Even just a light coat of lime scale buildup can cause serious problems for you. Denton plumbers can clean away this buildup for you.
Cleaning the Intake Screens
Another area that impacts the efficiency of tankless water heaters are the intake screens. These screens are there to prevent debris from entering the water flow sensor housing. When the screens become blocked, the efficiency of the water heater will decrease and other problems may occur.
Checking for Problems Before They Occur
When skilled Denton plumbers work on tankless water heaters, they are able to spot potential problems before conditions lead to more serious trouble. We recommend that you schedule a maintenance visit with Brown & Sons Plumbing at least once a year for routine cleaning and maintenance. This preventative step can save you from emergency water situations and improve the savings you enjoy with your tankless water heating system. Call us for an appointment at 800-758-6246.
If you are looking for a Company in the area, please call Brown and Sons at (940) 302-0100 or click here to fill out our online request form