Here's a startling fact: According to the EPA, concentrations of toxic pollutants can be up to ten times greater inside a home than outside, even in our smoggiest cities. And today's homes, while more energy efficient, can trap contaminants like formaldehyde, radon, and household chemicals inside.
The PerfectAire

Fresh Air Exchanger is a way to effectively exchange fresh outside air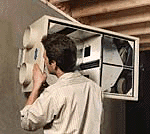 for stale inside air. The exclusive EnergyMax Transfer Core uses the heat of indoor air to warm up the incoming cold fresh air, recovering about 77% of the energy. In summer, warm fresh air passes near outgoing conditioned air, cooling it down. The beauty of the EnergyMax Transfer Core is its use of enthalpic technology. This technology enables the transfer of moisture as well as heat. The popularity of the enthalpic-type air exchanger has increased all over the country because of its superior ability to control humidity levels in both winter and summer.
The result is greater indoor comfort at the lowest possible cost. Noise is also reduced, since you can enjoy fresh air without leaving windows open. Plus, a cleaner, safer home is a home with greater value. While the ideal time to install PerfectAire

is during construction, the fresh air exchanger can be added to any existing heating/cooling system.
Benefits of PerfectAire:
Provides a constant, controlled supply of fresh air to your home year-round.
Reduces excess moisture content.
Reduces unhealthy indoor air pollutants, such as radon, formaldehyde, smoke, and odors.
Reduces air conditioning load by pre-cooling the air and removing excess moisture from incoming fresh air during the summer.
Handles up to a 3,600 sq. ft. home and conserves energy by effectively retaining the energy value from indoor air.
Helps produce a quiet, safe, secure, healthy indoor environment.
Does not require a defroster, like other systems.




Heating and
Cooling Products
Furnaces
Air Conditioners
Duct Cleaning
Services

Indoor Air
Comfort Products
Aprilaire


whole house humidifier
Space-Gard


high efficiency air cleaner
PerfectTemp


electronic thermostat
PerfectTemp


zone control system

Return to our
home page