Go Tankless, Get a Tax Credit

---
Go Tankless, Get a Tax Credit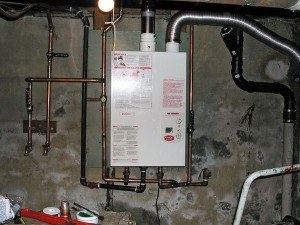 Our Denton TX plumbing experts want to take this time to wish each and every one of you a very joyous holiday. As we inch closer to Christmas, Hanukkah or Kwanzaa – whichever holiday you and your family are celebrating – we want to make sure you don't forget about another potentially important day.
Dec. 31 should be marked on the calendar for all who have either recently bought an energy-efficient device or is considering buying an energy-efficient device. The last day of 2010 is the final day consumers can qualify for a tax credit that covers heating, venting and air conditioning systems and other energy-efficient items. Gas tankless water heaters qualify for the tax credit.
If you ever were considering trading in your old water heater for a more compact tankless, consider the next 10 days as your perfect opportunity. Tankless water heaters (gas and electric) are becoming the household norm, as it provides an unlimited supply of hot water throughout your residence. It also is roughly the size of a small suitcase, providing a homeowner extra room compared to the larger traditional water heater.
Gas tankless water heaters qualify for the credit. Electric tankless water heaters, however, are not eligible. Feel free to check out the Energy Star website for more specific details on the credit, which can cover 30 percent of improvement costs and offer up to $1,500.
If you are looking to make the switch from the traditional to the tankless water heater, do not hesitate to contact our Denton TX plumbing company today. Call us, or contact us online for more details.
If you are looking for a Company in the area, please call Brown and Sons at (940) 302-0100 or click here to fill out our online request form
Comments
---