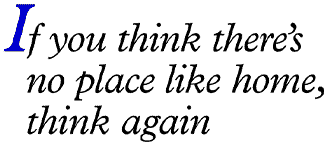 The Dryness Cure
When outside air is heated, its relative humidity plummets, stripping moisture not only from the air, but from your skin and body, your wood furniture, fixtures, and floors. The Aprilaire Whole House Humidifier is perhaps the most efficient, low-maintenance way to add moisture to your home's air.
Recommended Relative Humidity

35%

Sahara Desert

25%

Death Valley

23%

Average Heated Home

13-16%
Now Our Break-Through Technology Makes It Even Easier
Our exciting line now includes the world's first truly automatic humidifiers that generate up to 50% more moisture to assure greater comfort and preservation than other humidifiers. Aprilaire with Auto-Trac means there's no manual humidistat to adjust… ever! This exclusive Aprilaire feature monitors the outdoor temperature and automatically adjusts the humidifier so that it always provides the optimum relative humidity to your home. It is truly automatic.
The principle behind Aprilaire is simple: Humidity is added to the dry air coming

from your heating system and distributed throughout your home through ventilation ducts. No mist or droplets, which can carry impurities, are present because the water is converted to a pure vapor form. Aprilaire humidifiers are nearly maintenance free; with the flow-through design, there are no reservoirs to fill, drain, or clean. Simply set the control to a comfortable level and Aprilaire will automatically adjust the humidity level. It's an easy, effective way to distribute humidified air to every room in your home.
Aprilaire Means:
Comfort: Aprilaire eliminates dry nose, throat, itchy skin, and reduces static electricity.
Well Being: Ask your doctor. Proper humidity helps repel upper respiratory problems caused by dry air.
Preservation: Aprilaire protects your home and furnishings from damaging shrinkage due to dryness.
Energy Savings: Aprilaire reduces heating costs because you'll feel warmer at lower temperatures.
Water Conservation: Even our largest units use less than $15 of water per heating season*.
* Based on water cost @ $0.6300/100ft. and sewer cost @ $0.7154/100ft.
No matter what type of home you have, there's an Aprilaire unit designed specifically for you.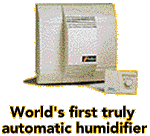 Heating and
Cooling Products
Furnaces
Air Conditioners
Duct Cleaning
Services

Indoor Air
Comfort Products
Space-Gard


high efficiency air cleaner
PerfectAire


fresh air exchanger
PerfectTemp


electronic thermostat
PerfectTemp


zone control system

Return to our
home page